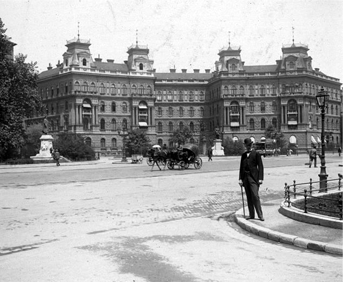 The KRAFT & Associates – Tourism Development was founded in 2004 in Peru. Since then we are working on implementing touristic projects, primarily hotel, bath, castle and monument developments.
Our main activity is bringing property owners, investors, operators and bank financing together, in other words "structuring" hotel projects. Our activity complies with the activity of a Boutique Investment Bank specialized on tourism.
Our Philosophy
From the beginning the main values of the firm have been quality, reliability and the establishment of steady middle- and long-term business relationships.
Our Endeavors in Hungary
Our vision is to have touristic and infrastructural developments throughout Hungary. We believe that all regions of Hungary is ready for new touristic attractions and projects, not only Budapest and Lake Balaton. Our goal is to develop quality hotels in all major Hungarian cities with an international brand. We have already successfully contributed to investments for instance in the cities of Kecskemét, Győr, Lakitelek, Zalaegerszeg, Kaposvár, Szekszárd and Balatonfűzfő. Our company has brought the Sheraton brand into Hungary (Four Points by Sheraton Kecskemét Hotel & Conference Center - www.starwoodhotels.com/Sheraton), and has contracted a major American hotel chain (Interstate Hotels & Resorts - www.interstatehotels.com), which operates over 500 hotels around the world to manage a hotel in Pannonhalma.
International Portfolio
Our activities are widespread throughout the world. We have projects in Romania and currently developing a hotel in Novi Vinodolski, Croatia (primary concept building and profitability analysis, hotel operator search, obtaining bank financing). We are especially proud of our new assignment in Belarus. Our company has good relations and references in the Latin-American region. We introduced the largest hotel chain of Colombia (Hoteles Estelar) and the third largest Spanish chain to Peru in 2007, built a concept on the 4* hotel by the Jorge Chávez International Airport (Lima – Peru), and on the request of the president of Skal international organization (www.skal.org) in Sri Lanka as well.
Methods of Work
During the years we have developed a Financial Economic Model which involves all aspects of future hotel operations: operative, financial, economic and accounting areas. This Financial Economic Model consists of 22 consecutive worksheets and is following the principals of the Uniform System of Accounts for the Lodging Industry, which is over a hundred years old globally used methodology in the hotel industry.
The company uses its own Market Mapping technique which serves for defining the current touristic demand and the characteristics of the competitors, thus identifying a new market niche.
Our colleagues
Our colleagues are mostly economists, who are experienced in the tourism sector. However we also cooperate with many professionals and specialists, such as architects and lawyers. We are simultaneously working on more than 20 projects, and another 100 are under negotiation. Our firm also functions as a "think-tank", we occasionally process the newest global trends related to tourism (for example comparing the hotel capacities of Vienna-Prague-Budapest), in order to be able to draw the attention of our clients and partners to the upcoming business opportunities. We also provide platform for students to accomplish their internships and grant opportunities for skilled school-leavers.